Below I have outlined some great gift ideas for anyone on your holiday or Birthday gift list who is interested in beer or home brewing. From beer kits to books, I have some great suggestions for you. And if you don't see anything you like here, check out the huge selection of beer, home brewing, wine making, and other products, including apparel, at the brand new Cryptobrewology.com Store.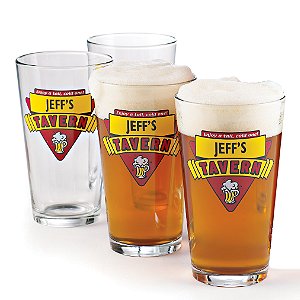 How about a Set of 4 Personalized "Red Tavern" Beer Glasses for your beer loving or home brewer friend or relative? Wine Enthusiast has them, and the prices is pretty good too, under $50 for a set of four. Here's what they have to say about them… "Brand yourself as the ultimate beermeister! Your good name will always be associated with good brew thanks to our personalized pint glasses with the eye-catching 'Tavern' logo. Before friends enjoy a frosty serving they'll be encouraged to 'Enjoy a tall cold one!' the tagline above your tavern name."
Here's a great gift idea, and one that you can share quick via online download, is BeerSmith home brewing software. BeerSmith is an excellent tool for building recipes, and helps the home brewer determine grain bill, target gravity, color, and other aspects of their beer, even a rough idea of how much it will cost to produce it. The BeerSmith website says it can help you "[match] the style and color of classic beers from around the world." The new version is available for both Mac and PC. I use it regularly to design my beers, and it's been a great tool to have. Click Here to Order.
Consider a gift subscription to BYO magazine. Whether you're shopping for a budding home brewer or someone who has a batch or two under their belt, BYO magazine is loaded with how-to tips and great articles on brewing beer at home. BYO has been a valuable asset to my home brewing hobby. It's well worth the look, and they offer a free trial issue.
Psst… mouse over any image or product link below for more information and pricing.
Okay, now for the bigger home brewing set up. If you're gift shopping for someone who is ready to get into brewing full 5 gallon batches of beer, then I recommend the Gold Complete Beer Equipment Kit
. It comes with a 6 gallon carboy, primary fermenter/bottling bucket, and all of the accessories one needs to begin brewing as a real hobby. This is the kind of kit I started out on, and I still use it! Kit includes True Brew Handbook & Kit Instructions, 7.8 Gallon Fermenting Bucket, True Brew Rack & Fill kit, 6 Gallon Glass Carboy, Hydrometer, Bottling Spigot, Capper, Airlock, Bottle Brush, Sanitizer, and more. A no brainer! I can't guarantee anything, but at the time of this writing expedited shipping was available for delivery by December 24th. Click Here to Order.
Give the Gift of Beer Books…
Speaking of tasting beers, here's a book that shows you how: Tasting Beer: An Insider's Guide to the World's Greatest Drink. Randy Mosher, takes you on a tour of beer like no other, shedding light on the magic and mystery of beer formulation and how its affect flavor and aroma. A great read for anyone who wants to expand their knowledge of beer. Click Here to Order.
If you know someone who is looking for a little guidance in beer appreciation, here's a book of beers to "Try Before You Die!"
Author, Roger Protz, has long history of touring and tasting beers from around the world, so it's no question that he is one in the know about what beers you need to try if you're looking to try them all before time runs out. So many beers and so little time, I know, but this guide helps narrow down the list a bit. Click Here to Order.
If you're buying a home brewing kit, or even if you aren't, add this to your cart! "The Complete Joy of Homebrewing"
is the premier guide on how to home brew beer. Author Charlie Papazian is a household name among us home brew hobbyists, he literally "wrote the book" that has helped countless brew-noobs become successul home brewers! As it says in the book description on Amazon.com, "Everything you need to get started is here, including classic and new recipes for brewing stouts, ales, lagers, pilseners, porters, specialty beers, and honey meads." Click Here to Order.
Designing Great Beers
is one book that I highly recommend to anyone interested in understanding more about the craft and science of brewing beer. I have a dog-eared copy on my nightstand. It's a detailed, comprehensive guide to all aspects of beer and brewing. If you're shopping for someone who seriously wants to get to the nuts and bolts of creating great ales, lagers, wheats and whatevers, this is the book!
Click Here to Order.
Well, there you have it! Some great gift ideas for the aspiring, or experienced home brewer, and even something for the beer enthusiast who isn't necessarily a brewer.